Skip to Content
Northern California's Most Affordable and Quality Garage Door Repair and Replacement Service
We all know that feeling; we pull into our driveway after a long day and press our garage door button just to see it sit still. People buy houses with garages to utilize all that space, and a broken door can leave your beautiful vehicles out in the weather rather than inside and protected. Don't live with a broken garage; call the experts at Nor-Cal Overhead to have it fixed nearly immediately. We offer same-day service in most cases so you can get back to using your garage as soon as possible.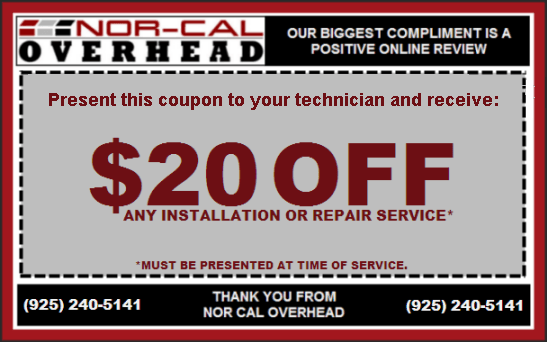 A Special Just for You!
If you're looking for an even better deal, you've come to the right place. Print out the coupon below and hand it to your technician when they arrive at your home, along with a copy of your online review. This coupon is applicable to all installation and repair services we offer. We hope this extra bonus offer is just the push you need to get the door of your dreams!
Our Specials Are Here for You!
On top of fixing components behind a non-working door, we also can install full replacements from our stock of the best quality garage door brands available. We offer a selection of beautiful, unique door designs from various materials and colors to match the aesthetic of your home. A garage door is one of the first things people will see when they drive up to your home, and it's a great way to make an incredible first impression. From sales and installation to repairs and maintenance, you can count on Nor-Cal Overhead.
Ready to work with the premier garage door repair and replacement service in the Bay Area? Contact us today to get your free estimate.
Bay Area Garage Door Repair Company